New Developments

These products are funded by NORA, and represent TODAY'S OILHEAT, providing intelligent warmth with technological advances to benefit consumers.

Sentinel: Advanced Primary Controller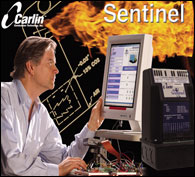 With Carlin's Sentinel Advanced Primary Controller installed in heating systems, Oilheat dealers will be able to gather smart data about consumers' combustion, burner operations, fuel usage, and storage level. This information will be relayed to the dealer's computer system. What does this mean for homeowners? The Sentinel brings with it features such as early warning of operational changes indicating possible developing burner, component, heat exchanger or flue problems; improved oil delivery efficiency while reducing the possibility of run-outs; and safe, reliable and clean burner operation.

Condensing Oil-Fired Warm Air Furnace

Kerr is developing a furnace that is able to be easily installed and maintained; reduce greenhouse emissions; and save homeowners money annually on energy bills. The general design concept includes a highboy design with the primary heat exchanger above the secondary heat exchanger and an electronically commutated motor (ECM) that will be used for the blower.

Advanced Synthetic Coal to Liquid Fuels (CTL) for Oil-Fired Burners

Brookhaven National Lab has tried to obtain samples of CTL sources for testing, but it is difficult to receive the CTL and GTL (Gas To Liquid) fuels that are produced by Fischer-Tropsch. However, with current Congressional focus on other fuel sources, Brookhaven National Lab may be able to continue their research at a future date.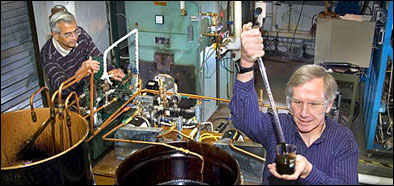 Ultra-Low Sulfur Diesel for Space Heaters

Tests were performed on Monitor and Toyotomi space heaters using ultra-low sulfur diesel, and the results yielded no burner related problems. Therefore, space heaters that specify use of No. 2 oil should not see any undue coking (the process by which a product that is being heated is broken down in the absence of oxygen) within ULSD, whereas other space heaters may require annual service of the combustion chamber.
2-Stage Oil Burner & Modulating Oil Burner for the Wall Hung Marketplace
The LW-80 chassis is the housing for the residential 2-stage and modulating burners. These burners are an effective alternative to natural gas and LP products, and are manufactured by Heat Wise. The burners are low-powered and only consume 80 watts of running power. The designs are nearly complete, and Heat Wise is now testing different heat/tube combinations. When the project is completed prototype building and testing will begin.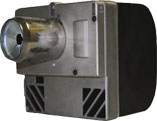 Features of the burners:
The Fully Modulating Oil Burner will compete directly with wall hung gas boilers as an oil-fired product.
The 2-stage Burner will offer increases in efficiency to existing oil-fired equipment at low cost.
Both designs will fire both fuel oil and biodiesel blends.
High Efficiency Combo Heat & Hot Water System

Highly efficient, this new combined heat and hot water condensing oil boiler application contains a spiral stainless steel secondary condensing unit. Energy Kinetics is evaluating burner applications from Beckett, Carlin, Riello, and Heat Wise and believes they are closing in on a design choice. The goal is to lower CO2 levels that reduce the condensate potential and running without a trace to 14 percent CO2 while aiming for sustained operation of 13.5 percent.
20-Gallon Oil-Fired Water Heater: SpaceSavr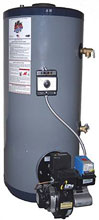 Bock has had a very positive response to the 20-gallon unit which serves to meet a wide range of situations where a small, responsive capacity, has made the SpaceSavr commercially available.
The benefits of the 20-gallon oil-fired water heater include:
Compact Size: 38" High x 20" Diameter
Big Delivery: 84g 1st Hr. Delivery / 20g Storage
Efficient: Highest GAMA Rating
2-Stage OH6 Furnace

Homeowners can experience fuel savings because the 2-stage OH6 furnace from Thermo Pride runs on low-fire most of the time. However, on extremely cold days the burner will run on high-fire automatically. The ECM blower provides additional electrical efficiency.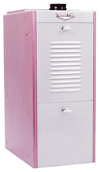 A technician merely moves a pin and adjusts it for low-fire as with a traditional burner, then moves the pin again to set it up for high-fire. Lastly, the pin is moved to the third setting to run. The burner will then switch from low- to high-fire automatically as needed. It is easy to service because it is mounted on a double hinge.
The benefits of a 2-stage OH6 Furnace are:
Up to 87.3 percent AFUE
High-efficiency 2-stage Riello oil burner
Easy contractor setup
Provides consumers with oil option for higher efficiency and reduced noise
OPB Thermopack

The OPD Thermopack created by Thermo Pride is a combination heating and air conditioning unit engineered to provide year-round comfort for homeowners. This high-efficiency system starts paying for itself with easy outdoor installation, an energy-saving ECM blower motor, 13-14 SEER air conditioning and significant fuel savings compared to older heating and air conditioning units. Since all mechanical functions and the combustion process are outdoors, its operation is remarkably quiet.

The OPB Thermopack includes:
Infinite speed ECM blower motor for energy savings and a more comfortable, quiet home
Easy service and installation because the unit is located outdoors
Can be installed on ground level or rooftop
Pinnacle Oil Condensing Oil Boiler

The Pinnacle Oil boiler is a direct vent, sealed combustion boiler and is 93+ percent efficient, earning it the ENERGY STAR® rating. The boiler is equipped with a Beckett AFG burner fueled with standard commercial grade #2 fuel oil and operates at two firing rates with inputs of 70,000 and 84,000 BTU/HR. The ASME-rated heat exchanger is constructed with high alloy stainless steel that assures the boiler's durability and protects it from corrosion.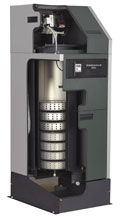 The Pinnacle Oil boiler offers many control features including:
Multiple temperature set points for both heating and domestic hot water.
An outdoor sensor which allows the boiler to be capable of outdoor reset operation.
An LCD display for viewing test and diagnostic functions, along with a pressure/temperature gauge and 30 PSI safety relief valve.

Certified for 'zero clearance to combustibles' and, with its slim, space saving design and low vent outlet, the Pinnacle Oil Condensing Oil Boiler is easy to install in virtually any application. A reversible swing door and top access to the burner and internal components allows for quick and easy service and maintenance. An insulated acoustic shroud and boiler jacket promotes quiet operation and reduces heat loss.
OHC95 Oil Condensing Furnace (Ultra-High Efficiency 95 percent AFUE) Now Available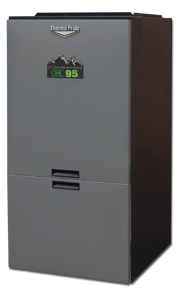 Thermo Pride's Research and Development Department with assistance from the National Oilheat Research Alliance (NORA) have worked diligently to design a reliable ultra-efficient oil furnace with efficiencies equal to many gas furnaces!

ENERGY STAR® Qualified - The OHC95 is ENERGY STAR® qualified. Products that have earned the ENERGY STAR® are designed to protect the environment through superior energy efficiency.
Our Heat Exchanger Advantage - Our primary heat exchanger is unique among other oil condensing furnaces in that it offers a smooth flowing 2 1/4" serpentine-style heat exchanger which transfers heat efficiently and quietly. Our secondary heat exchanger uses turbulators for increased efficiency similar to gas condensing furnace designs. Our heat exchanger manufacturing process uses a cold forming swage technique which seals and locks the two surfaces together instead of traditional welding. The benefits include no possibilities for pin hole leaks. Our secondary heat exchanger has larger tubes than our competitors allowing less restricted airflow minimizing buildup. We have designed easy access to the primary and secondary heat exchanger by mounting them on rollers for quick and easy access should maintenance be required.