Home Inspectors

Home Inspector's Companion to Oilheat
All home inspectors should have this guide to know all about how an Oilheating system and its components work. From furnaces to tanks, you'll have all you need to know, including some surprising Oilheat facts.
There's a lot to look at when you're inspecting a home. Home comfort (heating/cooling) is one of the homeowner's largest expenses – and your clients look to you to provide knowledgeable answers about their equipment. The local Oilheat dealer can help you, by providing the following:
System information – age of equipment, service  and delivery history, and estimated annual fuel use and costs.
Storage tank information – location, size, material, age, and  whether it's protected under a special tank coverage program.
Consultation on potential upgrades to heating equipment and tanks – estimated costs and savings.
Bioheat® fuel for homeowners looking for renewable resources.
Join Us:  Local Oilheat associations often run educational events offering home inspectors and real estate professionals powerful knowledge to help "seal the deal" on Oilheated homes.  Find your local association to see if there's an event scheduled near you.
Learn more – ask a local Oilheat dealer for a copy of our brochure:  "A Home Inspector's Guide to Oilheat."
Upgrade and Save
Upgrading old equipment to a new heating system can save a homeowner up to 40 percent in fuel usage, providing substantial financial benefits. 
Low interest financing is available in many states for high efficiency upgrades.
Annual heating system tune-ups can reduce heating oil usage by up to 10 percent.
Programmable thermostats automate the home's temperature settings, and may reduce usage by as much as 10 percent.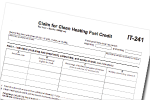 Tax Credits
Several states offer tax credits, incentives and low-interest loans for upgrades to high efficiency heating equipment as well as to individuals using Bioheat® fuel. Speak to your local Bioheat® fuel provider for more information.
Learn more – ask a local Oilheat dealer for a copy of our brochure:  "A Home Inspector's Guide to Oilheat."