Domestic
Bioheat® Fuel
Bioheat® fuel is made domestically from agricultural or recycled resources, reducing America's dependence on foreign oil and creating jobs here at home.
Biodiesel and Bioheat® fuel create thousands of U.S. jobs throughout the entire production and distribution chain. According to a recent economic study, this year's rejuvenated biodiesel production will support more than 31,000 U.S. jobs and generate income of nearly $1.7 billion to be circulated throughout the economy. It also is expected to generate an estimated $345 million in federal tax revenue and $283 million in state and local tax revenues.
Source: bioheatonline.com, National Biodiesel Board Future Projections
Production
Crude oil is produced in 31 states.  The top 10 producing states, according to the Department of Energy/Energy Information Administration, are:
 
| | |
| --- | --- |
| STATE | THOUSAND BARRELS |
| Texas | 96,168 |
| North Dakota | 34,430 |
| California | 17,101 |
| Alaska | 13,091 |
| Oklahoma | 10,946 |
| New Mexico | 10,281 |
| Colorado | 7,079 |
| Wyoming | 6,573 |
| Louisiana | 5,940 |
| Kansas | 4,166 |
See map: http://www.eia.gov/state/rankings/?sid=US#/series/46
US production of crude oil is at its highest levels in decades, and is forecasted to average more than 9 million barrels per day (bbl/d) in 2015.  If realized, the 2015 forecast would be the highest annual average crude oil production since the 1970s. (source: eia.gov Short Term Energy Outlook 11/12/14)
Local Suppliers
Oilheat dealers are part of the community. Oilheat is provided to you by local businesses.  The majority of full service Oilheat dealers live in or near the communities they serve, and participate in local civic and service organizations.
Oilheat dealers give back. Through Oil Heat Cares, Oilheat professionals - members of Oil & Energy Service Professionals - donate their time and talent to help those less fortunate by volunteering to work for a day on a local project. The organization also raises money by sponsoring events, such as the "Care to Ride" bicycle ride/walk, and then uses that money to purchase equipment from manufacturers to install in homes of those in need. Since its founding, Oil Heat Cares has come to the aid of numerous families and institutions in need of warmth.
History
Crude oil has been used throughout the ages as a source for light, heat, adhesives and medicines.
The first oil wells were drilled in Titusville, Pennsylvania in 1859.
The first pipeline was about 5 miles long, built in 1865
In the 1920s, oil burners provided an inexpensive, clean alternative to coal heating.
In the past 90 years, Oilheat has become cleaner and more efficient. Today, the next generation of Oilheat – Bioheat® fuel blended with ultra-low sulfur – is being used in homes all across the country and smart controls automate heating and reduce fuel use.
Landmarks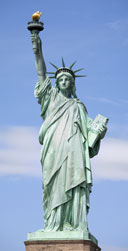 You might be surprised to see how many public spaces rely on heating oil for comfort!
Statue of Liberty, New York/New Jersey.  Through the recent renovation and even post-Hurricane Sandy, Lady Liberty is warmed with Oilheat.
The National Baseball Hall of Fame in Cooperstown, New York knows that Oilheat is an MVP when it comes to cost, comfort and cleanliness.
The United States Military Academy at West Point relies on heating oil to warm its facilities.
Gettysburg National Military Park in Pennsylvania, the largest battlefield shrine in America, heats many of its buildings with home heating oil.
Saratoga National Historical Park in New York, site of the first significant American military victory during the Revolution, uses Oilheat to warm several buildings.
Valley Forge National Historical Park, Pennsylvania, site of General Washington's encampment during the harsh winter of 1777, uses Oilheat in many of its facilities.
The Montauk Point Lighthouse in New York, the oldest lighthouse in New York State (built in 1796), keeps visitors warm even when those nor'easters whip up along the coast.