EFFICIENT
New Oilheat systems now boast efficiency ratings of 95 percent, providing more warmth with less fuel than ever before. 
Recent studies funded by NYSERDA show fuel savings as high as 48.3 percent when replacing an outdated boiler with a new, high-efficiency boiler.
Oilheat equipment is constantly evolving to incorporate advancements in efficiency and comfort. Many new boilers are designed to incorporate weather-responsive controls that greatly reduce fuel usage during mildly cold weather and provide a more even heat with fewer temperature swings.
Other important advancements include two-stage burners that conserve fuel and electronically commutated furnace blowers that save electricity, provide smoother operation and work well with high-efficiency central air conditioning systems.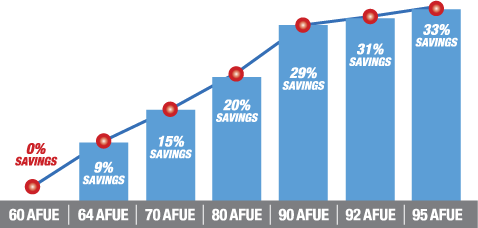 Learn more about Efficient Oilheat Equipment
Save with Oilheat
Upgrading old equipment to a new heating system can save a homeowner up to 40 percent in fuel usage, providing substantial financial benefits. 
Low interest financing is available in many states for high efficiency upgrades.
Schedule your annual heating system tune up to reduce heating oil usage by up to 10 percent.
Install programmable thermostats to automate your home temperature settings, and you may reduce your usage by as much as 10 percent.
Learn more about ways to Save with Oilheat 
Tax Credits
Several states offer tax credits, incentives and low-interest loans for upgrades to high efficiency heating equipment as well as to individuals using Bioheat® heating oil. Speak to your local Bioheat® fuel provider for more information.
Learn more about Tax Credits and Incentives for high-efficiency equipment and renewable energy
ENERGY® STAR

ENERGY STAR® is a joint program of the U.S. Environmental Protection Agency (EPA) and the U.S. Department of Energy helping us all save money and protect the environment through energy efficient products and practices. Energy efficient choices can save families about a third on their energy bill with similar savings of greenhouse gas emissions, without sacrificing features, style or comfort.
ENERGY STAR helps you make the energy efficient choice.
Upgrading to an ENERGY STAR rated oil-fired furnace or boiler can reduce your heating bills by almost 30 percent!
As of December 2012, families and businesses have realized estimated savings of more than $239 billion on utility bills and prevented more than 1.9 billion metric tons of greenhouse gas emissions over the past two decades. (source: EnergyStar.gov)
When looking for new household products, look for ones that have earned the ENERGY STAR. They meet strict energy efficiency guidelines set by the EPA and US Department of Energy.